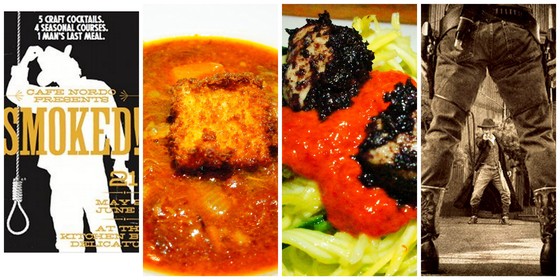 Terry Podgorski & Erin Brindley
Restaurants fall into broad categories, but once you get past the stuff-your-face-quickly places, they all have an element of the theatrical. What could be more dramatic, for example, than the simultaneous raising of the
cloches
in a Michelin-star fine-dining palace, revealing in one stunning moment the dishes of every guest at the table?
Café Nordo
, Seattle's homegrown
enfant terrible
of dinner theater, will have none of that artifice, thank you, but that doesn't mean they're averse to serving a meal whose entertainment value laces honest food and stiff drunks with a message of political satire.
Nordo's current production, "Smoked," is a tribute to the American Western, epitomized by "
Gunsmoke
," the long-running (9 years on radio, 20 seasons on TV) series that came to define the entire genre of Western soap opera with its stoic lawman, its bawdy saloonkeeper, its mysterious stranger.
As it happens, Marshall Matt Dillon's namesake, Seattle chef Matt Dillon, has just opened a restaurant,
Bar Sajor
, a block from the Pioneer Square space where "Smoked" is playing. But you won't be deprived at "Smoked." There's a four-course menu, expertly prepared by Nordo's director and co-producer, Erin Brindley in a real restaurant kitchen ("The Kitchen at Delicatus," an offshoot of the Delicatus deli two blocks away). True to the "spaghetti western" theme, the fare is politically correct "Molecular Chuck Wagon" (shredded zucchini "spaghetti" with mozzarella "meatballs", a delicious oxtail chili, a rhubarb pandowdy).
The evening also includes five cocktails (a sparkling Campari aperitif, a gin martini, a whiskey sour, a Toronto, etc.).
In fact, sustainable food is a recurring theme in the Nordo shows, with regular jabs at fast food and Monsanto-style engineered ingredients. The published manifesto begins thus: "In Café Nordo's pursuit of unadulterated digestions, theatrical cuisine combats the theology of blandness that permeates our culture," which can be read as an overly earnest proclamation or as self-protective satire, or both at once.
Café Nordo productions typically rely on American sterotypes like TV shows, airplanes, chickens, and the circus. Terry Podgorski, who writes the shows, uses iconic subjects so that his cast of semi-professionals don't waste time setting up the stock characters; the audience already knows them. In the most recent show, the Twin Peaks parody "Somethin' Burning," Podgorski even killed off company's namesake, the mythical martinet Chef Nordo Lefesczki, so you have to wonder whether the conceit wasn't wearing a bit thin after all these years. But no, the show retains its charm and homespun lack of pretense.
Composer and keyboard artist
Annastasia Workman
leads a band of musicians in original music that ably channels the tone of Ennio Moricone's spaghetti westerns (more archetypes!) The trumpeter, Evan Mosher, doubles as one of the patrons of the saloon, who gather to await the hanging of a local kid who had the audacity to set fire to a field of wheat, an act of eco-terrorism punishable by death. "Hanging brings people together," one of the characters says, menacingly. (You can almost predict that the next song would be titled "A Noose of One's Own.")
"Ninety proof self-pity," says Opal Peachey, who plays saloonkeeper Clara Still. As Cornichon has written before, Brindley and Podgorski nuzzle right up to the line of self-parody but don't cross it. Most of the company have been together since the original
Circus Contraption
days, and have worked together on the Café Nordo concept for years. The "Smoked" saloon set takes up half the intimate space, with the band tucked up in the balcony, so there's room for just over 50 patrons a night.
But for the first time, there's also a real kitchen, so the food's as good as the drinks. It's dinner theater, not Shakespeare, after all, meant to be savored and enjoyed. A few drinks, a few laughs, you could do a lot worse in Pioneer Square these days.
Café Nordo presents "Smoked," at The Kitchen by Delicatus, 309 First Ave. S., Seattle. Performances Thursday, Friday & Saturday through June 6th. Must be over 21 to attend. Tickets start at $60 ($5 additional on weekends, $10 more for the cocktail flight) via Brown Paper Tickets.